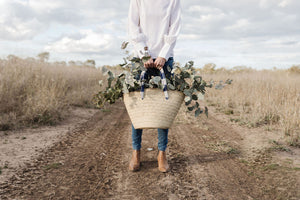 Welcome to The Good Gift Co.
Personalised Gifts, Basket Hampers & More
The Good Gift Co. is a family-owned, Australian business, curating boutique gift hampers and gift baskets, timeless for modern gifting. Choose from a carefully curated collection of products, including gourmet food, artisan wares, jewellery and self-care products when designing a personalised gift hamper. All packaged beautifully in your style of gift box, delivered conveniently Australia wide. Browse our most popular gift baskets here.
DESIGN YOUR OWN GIFT HAMPER BASKET
The Good Gift Co. has a carefully considered range of pieces for you to select from, when you choose to curate your own gift hamper. Our bespoke collection offers something for everyone, to ensure you can create the perfect gift for any occasion. Alternatively, you can simply select from one of The Good Gift Co's. most popular gift hampers or contact the team directly at thegoodgiftcoau@gmail.com  to discuss a more tailored gift approach when designing your perfect gift basket.
DELIVERING BOUTIQUE HAMPERS AUSTRALIA WIDE
For our boutique hampers, The Good Gift Co. offers gift delivery Australia wide. Our hamper delivery service is prompt, professional and reliable, ensuring you receive one of our popular gift baskets in no time. Simply make your gift selection, enter the delivery address and The Good Gift Co. will do the rest.
our STUDIO
Our studio is where we curate, create, pack and personalise all your beautiful gifts.
READ MORE
BOUTIQUE CLOTHING
Not only do we deliver gift baskets, The Good Gift Co. offers a boutique range of clothing, perfect for birthday gifts or special occasions. Browse our premium brands to add a personal touch to your gift this season.